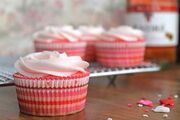 Warning!
This cupcake recipe contains alcohol. Do not consume if underage.
Pink Champagne Cupcakes are cupcakes made out of pink champagne!
Ingredients
Edit
3 cups cake flour
3 tsp baking powder
1 tsp salt
2/3 cup butter, softened
1-1/2 cup granulated sugar
3/4 cup pink champagne
6 egg whites
Pink or red food coloring
Additional pink champagne for glazing
Directions
Edit
Credits: Squirrel Bakes.com
Preheat oven to 350 degrees. Line cupcake tins with baking liners.
In a medium bowl, sift together flour, baking powder, and salt. In a large bowl, beat egg whites till stiff peaks form.
In a second large bowl, cream butter and sugar until fluffy. Add flour mixture in three batches, alternating with two additions of champagne, mixing until just combined. Scrape down the sides of the bowl as needed.
Add in food coloring until desired color is attained. Fold in 1/3 of the whipped egg whites and mix thoroughly. Add in remaining egg white mixture till combined.
Divide batter evenly among the lined cups, filling each halfway full. Bake for 18-20 minutes or until toothpick inserted in center comes out clean. Let cupcakes cool in pan for 5 minutes, then remove and let cool completely on wire rack.
Once cupcakes have cooled, gently poke 8-10 holes in cupcake using a toothpick. Using a pastry brush, glaze the cupcakes with extra champagne. Makes 24 cupcakes.