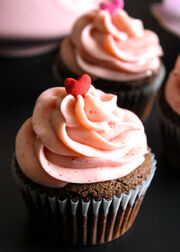 Nutella Cupcakes are cupcakes made out of... Nutella!
Ingredients
Edit
1/2 cup (1 stick) unsalted butter, softened
1 cup granulated sugar
2 eggs
1/2 cup Nutella
2 cups all-purpose flour
1/2 cup cocoa powder
2 tsp baking soda
1 tsp baking powder
1/2 tsp salt
1/2 cup milk
Directions
Edit
Credits: ConfessionsOfACookbookQueen.com
Preheat oven to 350 degrees. Line muffin tins with baking cups.
In a large bowl, cream together butter and sugar. Add eggs, one at a time. Stir in Nutella.
In a separate, medium-sized bowl, whisk together flour, cocoa powder, baking soda, baking powder, and salt. Add half of this flour mixture to the Nutella mixture. Stir in milk, then add the remaining flour mixture. Mix until just combined.
Fill baking cups 2/3 of the way full. Bake for 20-23 minutes, rotating halfway through, or bake until a toothpick inserted in center comes out clean. Transfer to a wire rack to cool completely before frosting.