Ingredients
FOR THE CAKE:
1 box White Cake Mix (Pillsbury 18.25 Ounce Box)
1 cup
Water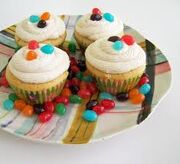 3 whole Eggs
⅓ cups Canola Oil
20  Large Jelly Beans
FOR THE FROSTING:
4-¾ cups Powdered Sugar
6 Tablespoons Butter
1-½ teaspoon Vanilla Extract
¼ cups Milk Or Light Cream
FOR THE TOPPINGS:
1 cup Shredded Coconut
1 drop Green Food Coloring, Or As Much As Needed To Reach Desired Color
Optional For Garnish: Jelly Beans And Other Candy Decoration
Directions

Edit
For the cake:

Preheat oven to 350 F.
Add the cake mix, water, eggs and oil into a large bowl. Beat with a mixer on medium speed for 2 minutes or whisk by hand for 2 minutes.
Cut the jelly beans into pieces (cut each jelly bean into 3 or 4 pieces if possible). An option is to pick out the black and white colored jelly beans leaving just the pink, green, purple, red and yellow ones.
Then add the pieces of jelly beans into the cake batter and stir them in.
Line two 12-count cupcake tins with paper baking liners (recipe makes roughly 16).
Bake in the preheated oven for about 18 to 22 minutes (or when a wooden toothpick inserted in the center comes out clean). Let cupcakes cool on a rack completely before frosting them.
For the frosting:Edit
Add the powdered sugar, butter, vanilla extract and milk (or light cream) to a medium size bowl.
Set the mixer to the slowest speed and beat the ingredients very carefully so that the powdered sugar doesn't fly out of the bowl.
Once the powdered sugar starts to mix in with the butter and milk (about two minutes), increase the speed on the mixer and beat the ingredients until smooth (about another 3 or 4 minutes).
Set aside until your toppings are ready.
For the toppings:
Add the shredded coconut to a small bowl. Next add the green food coloring and mix it into the shredded coconut. If you prefer that the coconut be a bit darker, feel free to add a few more drops of the food coloring.
Before frosting the cupcakes, push a jelly bean into the top of the cupcake down about an inch.
Frost the cupcakes. Right after frosting the cupcakes, add the colored shredded coconut, jelly beans and decorative candies on top of the cupcake.
Recipe From :  TastyKitchen
</div>