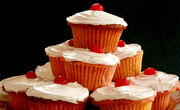 Cherry Nut Cupcakes
are cherry cupcakes with nuts!
Ingredients
Edit
2 1/2 cups flour
3 1/2 teaspoons baking powder
1/2 teaspoon salt
1/2 cup shortening
1 1/4 cups sugar
2 eggs
3/4 cup milk
1/4 cup cherry syrup
3/4 teaspoon almond extract
1/2 cup finely chopped nuts
3/4 cup finely chopped cherries
Pink or white icing
Directions
Edit
Credits: American Girl mini-book Molly's A+ Partner
Preheat the oven to 350 degrees. Line the cupcake pans with paper liners.
Put a sifter to a medium mixing bowl. Measure the flour, baking powder, and salt to the sifter. Stir them in the bowl.
Measure the sugar and shortening into a large mixing bowl. Use an electric mixer to beat the mixture until fluffy. Add the eggs, and beat for 1 more minute. Use the rubber spatula to scrape down the sides of the bowl after beating.
Add the milk, cherry syrup, almond extract, and half of the dry ingredients to the shotening and sugar mixture. Beat well. Add the remaining dry ingredients, and beat again.
Use a wooden spoon to stir in the nuts and 1/2 cup of the cherries.
Spoon the batter into the cupcake liners until each is about 2/3 full.
Bake the cupcakes for 20 minutes. Use potholders to remove the cupcakes from the oven.
Poke a toothpick into the center of one cupcake. If the toothpick comes out clean, the cupcakes are done. Set the cupcake pans on a rack to cool.
After 10 minutes, take the cupcakes out of the pans. Let them cool on the rack, then frost them using a butter knife. Use the remaining chopped cherries to decorate the cupcakes.